Each of these individuals and organizations raised the funds for a home and then came down to build it with the help of people from their organization or family and friends.
Build a Miracle would not be what it is today without the help of so many generous people!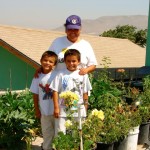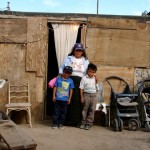 1. St Edwards Catholic School Dana Point -
Students from St Edwards in Dana Point collected $1 each week from the students. The idea was that they would use their own money or earn money to help raise enough for a home. At the end of the year, parents pitched in to raise the remaining amount of the $10,000 needed for a home.
They raised the funds to build 3 homes:
House #27 – 2004
House #60 – 2007
House #89 – 2008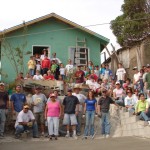 2. St Michael's School in Poway
The students from this school brought their spare change to mass each week and the members of the student counsel would count it and deposit it in the bank.
By the end of the year, they had raised enough to fund a home.
House #83 – 2007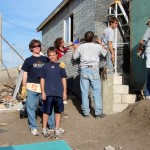 3. Adam – A senior in high school
When Adam was a senior at Scripps Ranch High, he decided to raise enough to fund a home as his senior project. He achieved his goal by sending out letters and emails to family and friends asking for their support in his endeavors as well as by having a fundraiser at Rubios.
House #58 – 2006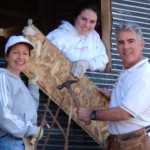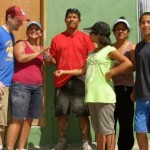 4. Lisa and Brian as well as Jazmin and Mike
Both of these couples asked people to donate for a home for a family in Mexico in lieu of wedding gifts and then came down to build the home with family and friends.
House #80 2007 – Lisa and Brian
House #157 2012 – Jazmin and Mike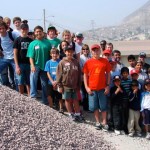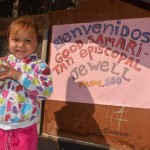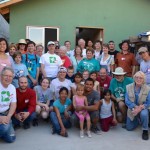 5. Penasquitos Lutheran and Good Samaritan Episcopal
These 2 churches have both raised the funds to build a home by speaking at their services and then came down with their church members to build and furnish the home. Good Samaritan members registered for their family in Mexico at Bed Bath and Beyond in order to provide a means for church members to buy bedding and household supplies for their family in Mexico.
House #66 – 2007 Penasquitos Lutheran
House #180 – 2014 Good Samaritan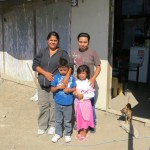 6. CLC Prayer Group of Orange County
The CLC group had various fundraisers including a comedy night and letters and emails to family and friends in order to build houses:
House #151 – 2012
House #175 2014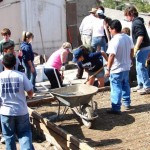 7. St Gregory the Great Youth Group
Funds were raised by having each of the 100 youth group families pay an extra $100 when signing up for youth group. The youth then came down 3 different times to help build the home.
House #63 2007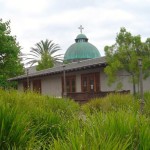 8. St Gregory the Great Parish has been responsible for the funds for 95 of the homes built to date. These funds have been raised by speaking once a year about Build a Miracle at all the masses. Individuals from the parish have funded entire homes, parishioners have shared the program with their coworkers, clients, family and friends as well as combined donations of $25 – $500 adding up to fund all of these homes. – link to St Gregory sponsor page
95 homes funded – 2002 – 2014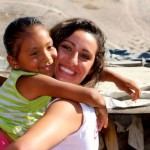 9. Jenna
Jenna was a senior at Cathedral High School and spent the year raising funds for her own home by working as a dance teacher and donating her earnings, having a garage sale with items brought by family, friends and neighbors, and then by sending out an email with a fundraising video attached to everyone she knew – link to Jenna's video
House #171 2013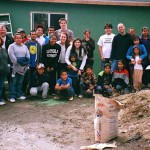 10. LMU Students
The LMU students made a fund raising video, had a garage sale by sending out fliers to all the homes near the LMU campus asking residents to donate items for the garage sale. They also asked students who came down to build each month to reach out to family and friends in order to fund their own home -link to LMU fundraising video
#178 – 2014

11. Lilly Pharmaceutical
Lilly employees raise funds for Build a Miracle college scholarships 1 -2 times a year by getting food donated for breakfast burritos and then selling them to employees before work and asking for donations. They have also had employees come during their lunch break to learn about Build a Miracle.
12. Many homes have been donated in memory of a special person
#94 and 95 in Memory of Becky D'Aoust
#103 in Memory of John Benassi
#130 in Memory of Aaron Webster
#136 in Memory of Betty Mangan
#143 in Memory of Jim and Rea Rodenbeck
#147 in Memory of Terri Shine<
13. The North Family
Instead of giving Christmas Gifts to each other one year, they decided to ask family and then friends from their Christmas mailing list to donate toward a home.
Enough funds were raised for a home and the extended family enjoyed it so much that they have continued the tradition. Instead of buying gifts for each other each year, grandparents, aunts, uncles and cousins put in for a home and then play games and do skits during the time they would usually open gifts.
Houses #81, 91, 111