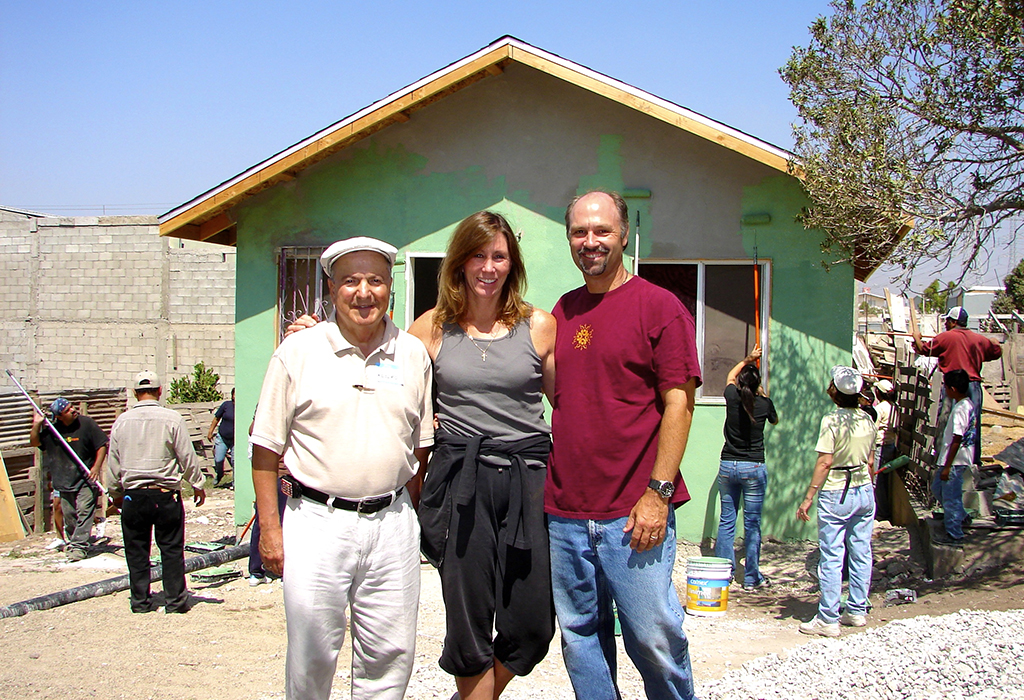 Build a Miracle was formally established as a nonprofit corporation in 2001, but the true origin dates back to October 14, 1985, the day the founders, Chris and Julianne North, met while painting the dormitory of an orphanage and boys home in Tecate, Mexico. Chris was a recent graduate of Loyola Marymount University and Julianne was a sophomore there.
Shortly afterward, they met Adolfo Noguez, director of an educational and athletic program working with hundreds of impoverished children in Northern Mexico.
After their first trip, they started an organization at Loyola Marymount University known now as De Colores, which after 25+ years, is still going strong with monthly student trips to build homes and schools in Tijuana.
Chris and Julianne were married in 1988. Along with Adolfo, they continued to work together on various charitable projects in Tecate and Tijuana.
The transformation into Build a Miracle – a home building organization – began in 1999, when they changed their focus from working with orphanages to building homes so that children could be raised by their families instead of having to go live in an orphanage. Most of the children living in orphanages in Tijuana, were actually not orphans, but rather children whose parents decided that life at an orphanage would be better than being cold and starving at home.
The idea was to gather friends and family and to build one home a year, but the excitement about building homes for families living in shacks became contagious for Chris and Julianne's friends, family, neighbor's, schoolmates, and fellow parishioners.
Donations started coming in and it was time to make it official. In 2001, Build a Miracle was born.
People got so excited about Build a Miracle and about building homes for needy families where 100% of their donations went toward building supplies, that the organization grew.
To the Friends of Build a Miracle, We could never thank you enough for your love and enthusiasm for helping those less fortunate. We could not imagine knowing more generous and caring people. We thank you for your example of loving your neighbor and living life as Christ has asked.
It has been a blessing to work with you on so many levels, both here in the US spreading awareness about serving others, and also working side by side with you and our brothers and sisters in Mexico.
As they say every time we are in Tijuana, thinking of you and not of themselves, "May God continue to bless you so that you may continue to bless others." With Heartfelt Love, Thanks, and Appreciation, Chris and Julianne North and Adolfo Noguez.